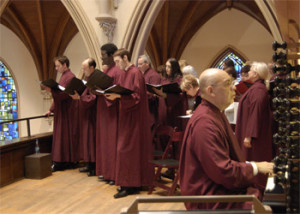 The choral ensembles are comprised of approximately eighty professional and volunteer singers from the greater Chicago metropolitan area and are dedicated to performing at Solemn Eucharist on Saturdays, Sundays and Solemnities that mark the church calendar.
The choral ensembles are engaged in over one hundred performances (liturgical and otherwise) each year, and prepare approximately three hundred works each season drawn from the wealth of the Roman Catholic sacred music tradition.
---
Schola Cantorum Cathedralis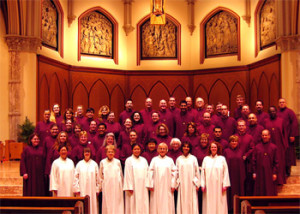 The Schola Cantorum Cathedralis, a resident professional chorus, provides the ordinary and proper texts at the 9:30 A.M. and 11:00 A.M. Liturgies of the Eucharist on Sundays and on principal solemnities. The Schola Cantorum Cathedralis is the backbone of the Holy Name Cathedral music program. Their musicianship and dedication to the great choral tradition of the Roman Catholic Church are an inspiration to choirs and a source of beauty in the church's liturgy.
The primary function of the Schola Cantorum Cathedralis is to lead worship, both musical and non-musical portions. The choral repertoire sung for cathedral liturgies is taken from the great choral literature of the Roman Catholic Church throughout the ages such as Palestrina, Lassus, Victoria and later great composers including Haydn, Handel, Mozart and Mendelssohn. In addition to music of the ages, 20th and 21st century sacred music by Britten, Part, Howells and others, and, the music of Richard Proulx are sung throughout the church year.
---
Cathedral Singers
The Cathedral Singers are a highly trained volunteer choir who sing at 11:00 A.M. liturgies of the Eucharist on alternating Sundays. The singing ensemble sings a variety of sacred music from Thomas Tallis and Palestrina to Ralph Vaughn Williams and newly composed music for this ensemble.
---
Women's Schola
The Cathedral's Women's Schola sings for liturgies of the Eucharist on alternating Saturdays at 5:15 P.M. This dedicated group of women sings sacred music of a special nature in a treble tessitura which includes the music of Bach, Leighton, Palestrina and Gabriel Faure. Directed by Thomas Lipsmeyer, the Women's Schola also sings for special liturgies such as the Liturgy for 50 years of Marriage celebrated by the Archdiocese of Chicago.
---
Cathedral Filipino Singers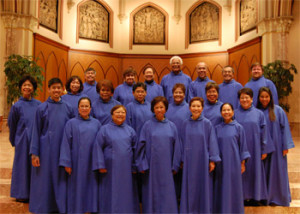 The Cathedral Filipino Singers grace liturgies in the different seasons of the liturgical year. The Cathedral Filipino Singers are directed by Vicente Velarde. The singing ensemble sings for the two Filipino Feasts of Santo Nino and Simbang Gabi as well as selected liturgies throughout the liturgical calendar.